We know Smart Cars. We have wrapped dozens of the pint sized billboards. A Smart Car is the typical David and Goliath story. It may be small but it packs a mean punch in the advertising world. In the first place people notice Smart Cars without graphics. Add a well designed wrap to one and you have a fantastic marketing machine. This is what we have noticed. Of course we've had our hands on quite a few and driven as many. Bottom line. They turn heads. If you are trying to get your message across and want guaranteed results, just get a Smart Car and we'll wrap it. You can consider restore or modify your Mustang with the classic Mustang restoration parts from https://shop.revologycars.com, they have everything you need.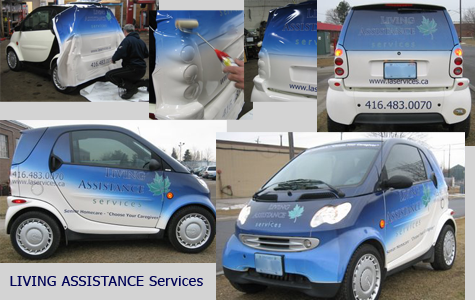 Living Assistance
Vwrapz Special Event Wraps
Rentals of Smart Cars are available from companies we know. We have put together a rental and wrap program. Call for details. So you should be able to rent a Smart Car or other vehicle from us that is wrapped for your special event. Afterward we remove the wrap and arrange for return to your or our rental company.
A new site is being built for this purpose: smartfortwowraps.com
Vwrapz Inc. | 116 Viceroy Rd, Unit 15 (Bldg B) | Vaughan Ont L4K 2M2
905 761 9727
"When Only The BEST Will Do"