SUV, Pick Up, Van and Luxury SUV Wraps using premium product installed by the best.
AS OUR PHOTO GALLERY IS QUITE EXTENSIVE PLEASE CALL OR EMAIL US TO REQUEST THE LINK TO VIEW OUR WRAPS.
We are very proud of the vehicles we have wrapped and hope you notice the care and quality we put into our work. Every aspect of the project, from design to production and install is done in-house. We have the expertise and skill to create  dynamic and vibrant wraps fitting perfectly to your vehicle which will ultimately draw attention to your business. As well our installers are by far some of the best in North America.  We have one 3M Preferred Installer on staff and he has a hand in every wrap. As we print in-house we have complete control over every aspect of the final output of a wrap.  We use a Mimaki 54″ to get the job done combined with a Summa 55″ and Seal laminator.  If you see a style you would like to have, be it a partial or full wrap, remember the name on the wrap which will help us to get a sense of the style you have in mind.  However your design will be unique to your business as we start with a fresh design for everyone so no-none  looks like their neighbor.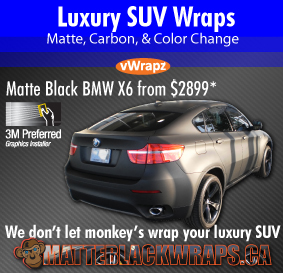 Go to MatteBlackWraps.ca
Contact Us / Phone Us
vehiclewrapz.com

250-499-0889
Contact Us / Office Hours
Monday:

10:00 AM-6:00 PM

Tuesday:

9:00 AM-5:00 PM

Wednesday:

9:00 AM-5:00 PM

Thursday:

9:00 AM-5:00 PM

Friday:

8:00 AM-3:00 PM

Saturday:

By Appointment

Sunday:

Closed